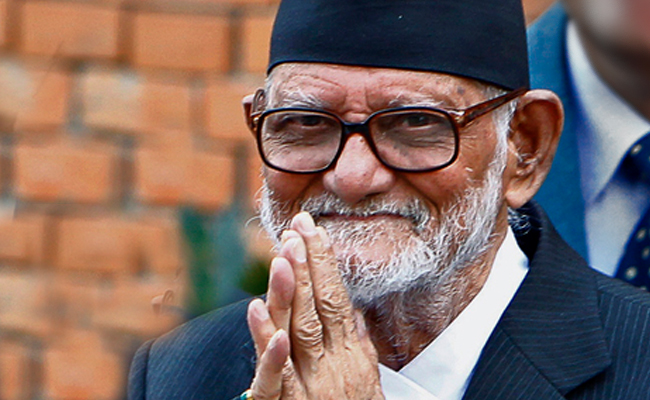 Magh 26, Kathmandu. On Monday night, the former Prime Minister and Nepali Congress Sushil Koirala has died. He died around 12 congratulated 50's death, said family sources.
The greatest power of honesty of politicians underestimate the simple life of Koirala contemporary netaharukama was one. While the prime minister only three of his possessions, including mobile discussed the news and foreign media by media got to him, even the Prime Minister said the world's poor.
Father and mother, Lily carbonara Koirala Koirala born in the womb and has been active in politics were Koirala of the Nepali valyakaladekhi. BS. 2007 BS Koirala began to be interested in politics 11 years, while constantly active in the democratic movement.
Koirala of the Nepali Congress Central Committee member BS BS .034, secretary and upasabhapita through the 066 years of the 12 th General Convention of August, the highest padasabhapatima party were elected.
017 King Mahendra dissolved the elected government and parliament and democracy 'coup' After 16 years stay in India he lived. The armed revolution for democracy in Nepal Congress conducted Congress former president Girija Prasad Koirala, Sushil important role was as collaborators. Acting through the death of Girija Prasad Koirala, Koirala became chairman of the party.
In India, the brutal torture
BS Girija Prasad Koirala, in accordance with BS 030 Plan to hijack an aircraft by the Royal Nepal Airlines Corporation pharavesaganjama Taken Indian state of Bihar. The aircraft received 30 million Euro abducted by armed revolution was used.
Bombay Indian police to escape abduction aircraft Sushil Koirala, kalinapona various cities in India, including underground life were spent. The same charge was arrested after Koirala in Delhi, India Tihar yatanasahita terrible, Araria, punirya, Bhagalpur and more places had been for three years. The political life of the most difficult Sushil had suffered immediately.
BS. BS 007 for the establishment of democracy in Nepal, Koirala had a leading role in the movement jelasameta 6 years and have spent 16 years in India.
BP Koirala vacant European countries Germany, Australia and velayatalagayataka Leader Koirala went for lobbying in favor of the party to participate in the International Conference of the majority.
BS. 046 048 and 056 BS uprising Parliament from Banke Constituency No. 2 won Koirala, who had always been out of power and force,. 046 restored democracy after year formed the first government to be Minister for Foreign Affairs refused the requested Koirala, Deputy Prime Minister has been urged to be rejected time and again they had been.
070 years of the Constituent Assembly elections in November Banke and Chitwan 3 4 watts elected Koirala was elected Prime Minister on 27 January 2070.
Koiralakai found under the new constitution. On September 3 after the promulgation of the new constitution, he resigned on October 23.
Koirala was now making preparations for the party's 13th convention.